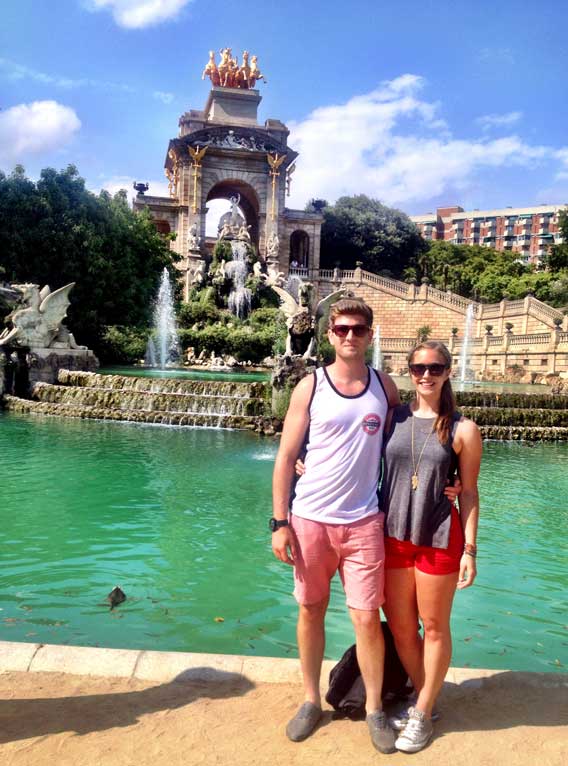 In July 2014, Brett and I had the pleasure of traveling together through Europe for two weeks, with stops in Spain, Italy and France. We made amazing memories and got to see and do some incredible things, visiting cities we had never been to before. Many of the best things we experienced during our travels were thanks to suggestions of others—through friends who had previously been to the locations we were visiting, or via online reviews and travel blogs. We felt our research paid off, helping us make the most of our time and maximizing our enjoyment.
As we transition to winter here in Nova Scotia, Brett and I can't help but look back a little longingly on our summer travels. Partially for the trip down memory lane, and partially to return the good karma for others planning trips and traveling, we've decided to do a city-by-city account of some our favourite things we did, saw, ate and drank as first-timers in the cities we visited.
Our first planned stop on our trip was Barcelona in the Catalan region of Spain. We had always heard wonderful things about Barcelona from friends and acquaintances who had visited before, but I don't think we were prepared for just how much we would fall in love with the city.
We stayed there for just under four days along La Rambla—a bustling central street in the downtown featuring a pedestrian strip down the middle filled with people, vendors and restaurant patios—at a hotel the Orient Atiram. We loved this location and found we were able to easily get around mostly by foot.
Best Things to Do in Barcelona
This list is by no means complete as there are still things we wanted to do that we didn't get a chance to, but provides a snapshot of some of our favourite activities and sights as first-timers in the city.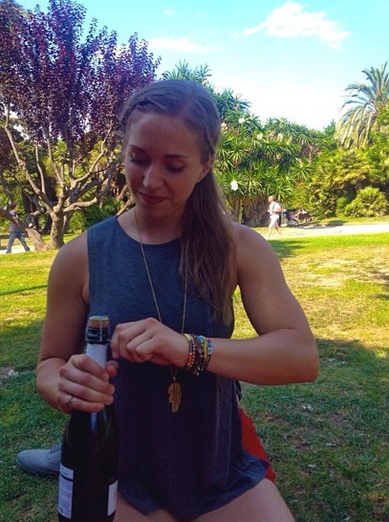 Park Ciutadella

– There are a number of gorgeous parks in Barcelona, but we particularly enjoyed Park Ciutadella which was only a 10-15 minute walk from our hotel. We spent the afternoon of our first full day there, and to celebrate our arrival we stopped at one of the many small markets / grocery stores on the walk over and picked up a bottle of orange juice and a local sparkling wine called cuva to make mimosas in the park. The park featured some beautiful statues, gardens and a big pond in the centre with paddle boats—it was alive with people of all ages and all walks of life enjoying the sun, setting up blankets and enjoying food, beer, wine, games and music. 
Barcelona Zoo – Right beside Park Ciutadella is the Barcelona Zoo, which was big and beautiful. There was an incredible variety of animals, all of whom looked well taken care of with large living spaces.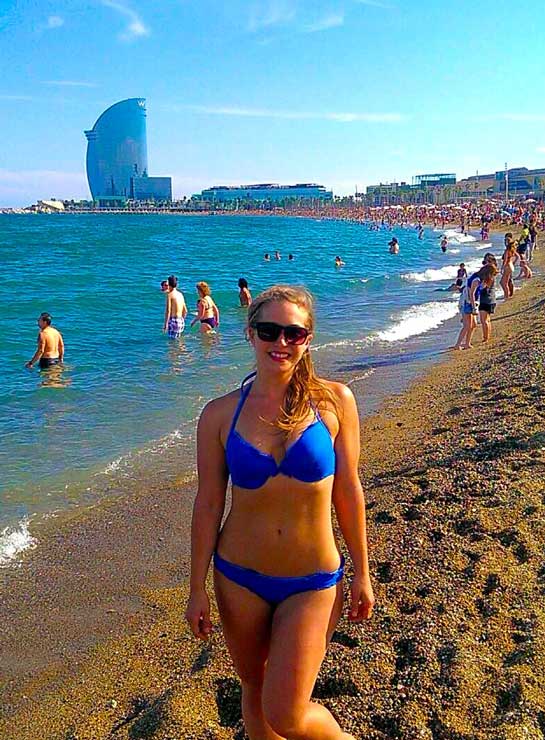 Beach – A stretching sandy beach lines the old part of Barcelona's downtown, making for a stunning visual combination of architecture and mediterranean blue water. Enjoying drinks in public spaces is accepted, so like the park, we would pick up refreshments on the way over, then enjoy our respective beer and ginger beer on the beach while catching rays and people watching. And like the park, the beach positively buzzes on beautiful summer days—no question it's the place to "see and be seen". Lots of beautiful people (and toplessness) 🙂

Flamenco Show

– One evening, we booked tickets to

El Tabloa de Carmen

 Flamenco show, which included dinner and drinks. Admittedly the food and drink left a bit to be desired, however the entertainment was well worth it, featuring traditional song and dance performances by some incredibly talented men and women.

Magic Fountain of Montjuïc

 – Following the Flamenco show, we wandered down the hill and happened upon the

Magic Fountain of Montjuïc

, which features breathtaking light shows at night accompanied by music. This was an unexpected but delightful discovery—we must have spent at least an hour in front of the fountain watching the show, which reminded us of fireworks with water. Brett got a great video of it to

watch on Instagram

.

Sagrada Família Catedral

– The Sagrada Família Catedral was unlike anything I've ever seen—a truly astonishing architectural feat, funded by donations alone. Its construction started in 1880, and is still in progress over one hundred years later. Tickets can be purchased online in advance, which we took advantage of and would recommend as it allowed us to avoid waiting in line. Admission includes touring the inside of the church with its breathtaking stained glass, and museum downstairs which details the fascinating history of the construction of the church and its architect Antoni Gaudi. 
Where to Eat & Drink in Barcelona
There is no shortage of wonderful places to eat and drink in Barcelona, with all ranges of price points and formality. The places we ate during our visit skewed a bit more casual, so again, this is by no means a comprehensive list if you're looking for something a bit more upscale. With that said, in our experience, some of the food we enjoyed most came from smaller and somewhat unassuming spots.
Bormuth [

Carrer Plaça Comercial nº1 08003] 

– When thinking of food in Barcelona, tapas naturally comes to mind—a variety of appetizers (or snacks) in Spanish cuisine that feature both hot and cold dishes built for sharing. While we enjoyed tapas at a number of restaurants during our stay, the one that stood out for us most was Bormuth. The atmosphere was wonderful, with big windows and doors left open for fresh air and walls covered in wood or exposed brick. The food was equally enjoyable and priced well, and we enjoyed several dishes including meatballs, spicy sausages and ham and cheese croquettes washed down with local craft beer.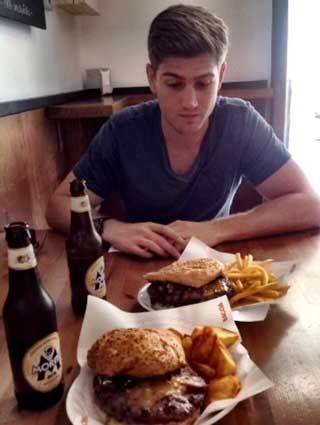 Restaurante Bacoa

[Carrer Colomines, 2] – We discovered

Restaurante Bacoa

—specializing in giant gourmet hamburgers—through a local food recommendation site, and decided to check it out for lunch after we visited the Sagrada Família cathedral because of the rave reviews it received. Let me tell you, we were not disappointed. The serving sizes were substantial and the food was delicious—they source their beef from local farmers and make all of their buns and sauces in-house. Our burgers (both "La Bacoa" with smoked bacon and a combination of cheeses) were cooked to perfection—still slightly pink on the inside—and served with their hand cut "patatas rusticas". An epic indulgence!

Bar Pinotxo

[Carrer la Rambla, 89] – One of the must-visit places along La Rambla is their famous market,

la Boqueria

, which is home to a variety of vendors serving everything you can imagine at a market: fresh produce, meat, baked goods, nuts, spices and fresh-squeezed juices on ice (there are multiple vendors in the market serving juice from nearly every fruit under the sun, even dragonfruit—and unsurprisingly they are delicious!). There's also a restaurant inside,

Bar Pinotxo

, which serves delicious traditional dishes from a bar surrounded by stools. They don't have a menu—they simply ask you whether you want meat or fish—then you get whatever is being freshly made that day right in the kitchen area behind the counter. My grasp of the language came in handy when we ordered here as the older gentleman serving us spoke only to us in Spanish. We were served "Garbanzos", a savoury chickpea dish with garlic, pine nuts, and potatoes, and "Cocido de Carne", a spicy beef stew. Flavourful, fresh and authentic food in the bustling environment of the market!
The three days we spent in Barcelona felt nowhere near long enough—there really is so much to see, do and enjoy. The cultural attractions, amazing architecture, beach right in the downtown and delicious food and drink paired with the cool, relaxed vibe of the locals is infectious. People really know how to live well here, and it shows. We positively can't wait to get back!